Turkey
Wild Turkey Hunts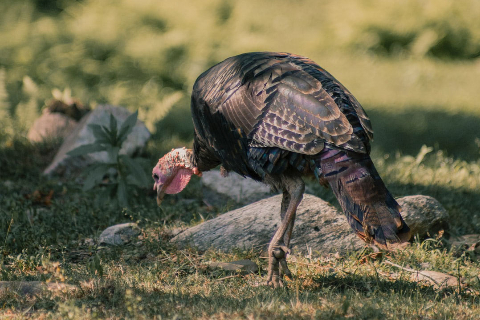 Our wild turkey population continues to thrive and grow. The turkey has everything it needs to thrive. We have the perfect habitat of clean rivers and streams, agricultural fields, and woodlands. By the early 1900's wild turkeys were almost hunted into extinction. A massive conservation effort has made the wild turkey return to where they hadn't been seen in over 100 years.
Flocks of turkeys are a common on our farm. We commonly see upwards of 20 birds at a time. The ground often shows the telltale evidence of turkeys working an area in search of food. Quiet mornings in the woods reveal the sounds of turkeys coming from their roost and beginning their day.
We can provide both guided and unguided hunts to meet your needs for a great trip. On our guided hunts, your guide will taking you to previously scouted areas and handle all of the calling duties. For unguided hunts, you will be in a blind in areas of high turkey activity and you are free to call or wait out the birds as they roam the area for hens.
The North Carolina turkey season is divided into a youth and an open season. The youth season allows for hunters under the age of 18 to harvest one turkey. The youth season for 2020 runs from April 4 - April 10.
The regular open season for turkey will run from April 11 - May 9. The daily limit for turkeys is one and the season limit is two.
North Carolina regulates for the taking of only male or bearded turkeys. Turkeys may not be hunted with handguns or rifles.
We will be happy to assist your licensing needs. We are a wildlife service agent and can issue the appropriate license along with printing your Big Game Harvest Report Card.
Turkey season usually fills up quickly. We encourage you to consider booking your spots early. We can reserve your hunt with a 50% deposit.