Turkey
Wild Turkey Hunts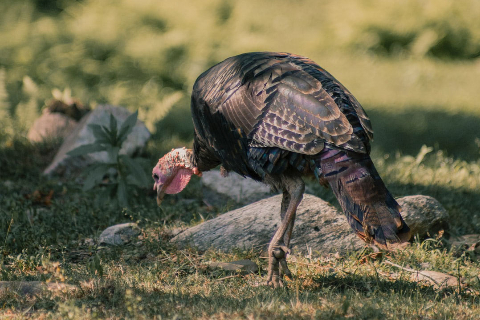 We offer both guided and semi-guided hunts to our property. If you have a preference to hunt in a particular way, in a blind or on foot, please contact us so we can discuss how you would like your hunt to be planned.
The North Carolina turkey season is divided into a youth season and a regular season. The youth season allows for hunters under the age of 18 to harvest one male or bearded turkey. The youth season for 2020 runs from April 4 through April 10.
The 2020 regular season for turkey will run from April 11 - May 9. The daily limit is one male or bearded turkey and the season limit is two.
We are a wildlife service agent and can issue the appropriate license along with printing your Big Game Harvest Report Card if you need assistance in purchasing hunting license.
Our wild turkey population continues to thrive on our property. We have the perfect habitat of clean rivers and streams, agricultural fields, and woodlands. By the early 1900's wild turkeys were almost hunted into extinction but conservation efforts have helped the wild turkey populations return to where they had once been.
Turkey season fills up quickly and we encourage you to consider booking your trip early. We can reserve your hunt with a 50% deposit.